If you hear a scream it's me - the message below is the one I am repeatedly getting when I try to move around blog land and leave comments.
Error 503
Last week's the message was "
Cannot connect........
" . I am on my way and I will get to you - eventually, please be as patient as I'm trying to be.
***************************************
Now, on to this week's challenge, it's called "Autumn is a Comin'" -
we would like to see work featuring Autumnal colour schemes.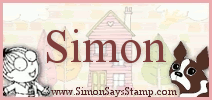 and this week's winner will receive $15 to spend in the store!!
We seem to be having a 'mousie' this week, last week Tilda was everywhere.
I do love my mousies, they have such a zest for life, a love of living, they love their food and if they're not up to mischief they off on some new adventure,
What else would you do in Autumn but collect fallen leaves and use the as parachutes - what a wonderful attitude towards life they have!!
These little chaps are coloured with Copics (far too many to mention), this is a huge stamp and little room for embellishments. The papers are Basic Grey's Indian Summer and the silky
leaves
from my local supermarket. The sentiment, cut with oval nesties is Magnolia.
Autumn is definitely here in Germany, the temperatures have dropped and It's damp and misty. I love the Autumn colours and when it's dry and all the leaves crunch underfoot but I could well do without this wet stuff falling from the skies!!